Alliance between Endesa, Bankinter and OHLA to facilitate energy rehabilitation in residents' associations with european funds
Endesa, through its business line Endesa X, Bankinter and OHLA have signed an alliance to launch a "turnkey" solution on the market that includes the design, construction of works and the provision of efficient technology. It also covers the grant processing so that residents' associations can face the energy rehabilitation of their properties in the best possible way and facilitates access to subsidies from European Next Generation EU recovery funds. It is estimated that, on average, between 30% and 60% of energy consumption can be saved.
Endesa X and OHLA will jointly assume the role of "Rehabilitation Agent" and will jointly carry out feasibility studies to offer the community the optimal solution from the point of view of energy installations, construction, energy savings and subsidies. And Bankinter will manage the financing necessary to carry out the energy rehabilitation of these residential buildings until the arrival of the aid from the European Next Generation EU recovery funds. Residents' associations will have immediate access to the financing necessary to undertake such improvements, which, in addition to environmental advantages, will provide significant savings in energy consumption, with a product adapted to the needs of each community and at very attractive market conditions.
This alliance represents a firm step forward for OHLA, Bankinter and Endesa in their commitment to build more sustainable cities. Thanks to this agreement, urban development and regeneration will be boosted, with a commitment to more inclusive, safe, resilient and sustainable spaces, as called for in Goal 11 of the Sustainable Development Goals approved by the UN in 2015.
Endesa X brings years of experience implementing energy saving and efficiency solutions. Its offer focuses mainly on three areas: energy efficiency solutions to reduce consumption; digital monitoring, optimization and energy management systems; and clean energy production systems. In addition, thanks to its capillarity, it is possible to provide service throughout Spain.
OHLA, for its part, has a know-how of more than 110 years of history in the rehabilitation of residential buildings, thus promoting the reduction of energy costs and well-being in homes. The company will export its experience in sustainable construction, in which it is a reference, using sustainability criteria through the application of techniques and processes based on innovation, usability of infrastructures and the contribution to the well-being of citizens.
The financing, which will be provided by Bankinter, will be articulated through a loan for an amount of up to one million euros, with a maximum term of 12 years, which does not require opening a bank account or contracting other additional products, and which is formalized with the digital signature of the community representative. In short, it is a simple, 100% online, non-binding contracting process, with the amount available in the Community's account in less than 72 hours, and which represents a cultural change in the usual dynamics of homeowners' associations by replacing the unpopular installments with flexible, long-term financing.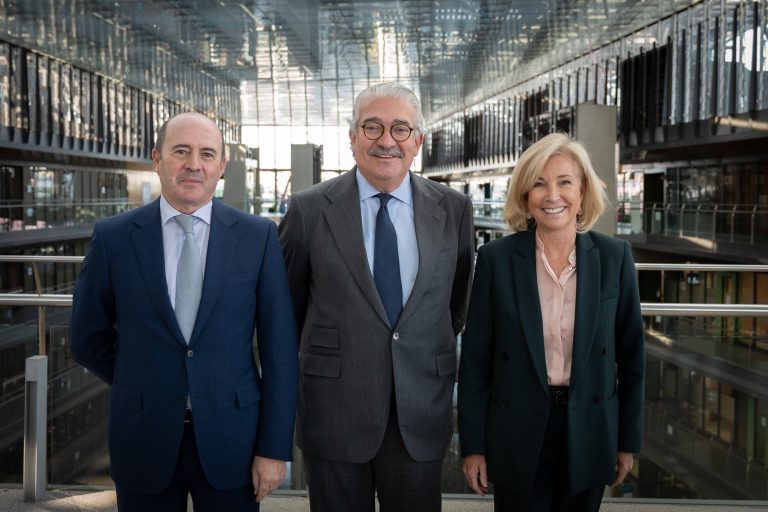 From left to right, Jose Antonio Fernández Gallar, CEO of OHLA; José Bogas, CEO of Endesa, and María Dolores Dancausa, CEO of Bankinter.