El Food Hall de Galería Canalejas, premio New Business Model 2022
Since opening its doors in September 2020, Centro Canalejas Madrid (CCM) has received multiple awards and recognitions that highlight the value of its services. On this occasion, the Galería Canalejas Food Hall has been recognized as a New Business Model in the Horeca New Business Models Awards 2022. The distinction, awarded by the prestigious Hospitality Innovation Planet (HIP) fair, highlights its innovative business concept and its contribution to boosting the tourism and hospitality sector in Madrid.

The awards ceremony was held at the Four Seasons Hotel, the Canadian chain's first establishment in Spain, located in Centro Canalejas Madrid. Emma Gómez, general manager of CCM, was responsible for collecting the award. The meeting also served to highlight the hospitality sector's commitment to the transformation of the business model, the incorporation of innovation and the identification of new products to achieve gastronomic excellence levels.
More than 4,000 square meters of surface host one of the most unique gastronomic proposals in Madrid and the rest of the country. Integrated in Galería Canalejas and with access from the emblematic Calle de Alcalá, the Food Hall has a total of 13 restaurants of different styles and nationalities, offering exclusive concepts designed by renowned chefs. This new hotspot in the city is perfect for any occasion due to its varied and carefully selected culinary offerings for all audiences, its extensive opening hours and its location in the vibrant cultural heart of the capital.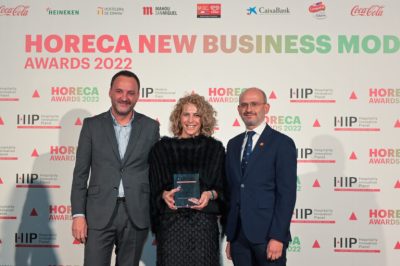 Emma Gómez, General Manager of CCM, in the center of the picture.