OHL explained individually,28th of May, to its shareholders the keys of the new phase in which it is currently involved, which seeks to steer the company on the path to profitability and to consolidate its position as a sustainable company. The most important messages announced to OHL's General Shareholders Meeting held today in Madrid include the company's transformation during a year "where reorganization, transformation and resizing have prevailed", and its commitment to Good Governance.
The CEO, José Antonio Fernández Gallar, when reporting to the shareholders, pointed out that 2018 has been a year of transition; significant transformations have taken place with a negative impact on results but, ultimately, OHL has been able to implement the necessary change to place it in an advantageous position in forthcoming years.
OHL ended 2018 with a liquidity position of 1,033 million Euros, following the sale of OHL Concesiones; it decreased its gross indebtedness by 55%, and its overhead costs by 39%, whilst generating an average gross margin in its projects of approximately 6.5%. The company ended 2018 with a total business portfolio of 5,877 million Euros, diversified in its three home markets: United States, Latin America and Europe.
Outstanding projects
Juan Villar-Mir de Fuentes, who has been re-elected as chairman of the company, highlighted some of OHL's most relevant works worldwide, to include the Mecca-Medina High-Speed Line in Saudi Arabia, and construction of the fifth Castellana Tower (Caleido).
At the end of his speech, the company chairman affirmed that a contract management policy is now in place, applying the highest control over any type of risks, which both the board of directors and members of the executive team, as well as more than 18,000 employees in OHL, are jointly working on in order to bring the company back to profitability and sustainability levels.
The new phase in which the company is currently involved is marked by its commitment to Good Governance
Approval of the agenda
The eleven items in the agenda approved by majority include approval of the Individual Annual Accounts and Management Report for 2018, the Statement on Non-Financial Reporting, integrated into the Consolidated Management Report, and the Board of Directors' management during the year.
Reyes Calderón Cuadrado was also re-elected as independent director for a four-year term, and the appointment was ratified of Carmen de Andrés Conde and César Cañedo-Argüelles Torrejón, also as independent directors, a position to which they were elected in July 2018.
Good Governance
The new phase in which the company is currently involved is marked by its commitment to Good Governance. With its new appointments on the Board of Directors, OHL is anticipating the 2020 target foreseen in the Good Governance Code, by fulfilling the recommendation that 30% of the Board members be female.
Furthermore, for 17 years now, the company has a Code of Conduct that has evolved until it became its Code of Ethics, starting in 2010, which is binding on each and every one of OHL's employees. This rule governs all relations with partners, suppliers, subcontractors or other types of collaborators and has been reviewed and updated in 2012 and 2015. In order to specifically reinforce its commitment to good business practices, the Board of Directors approved the company's Anti Corruption Policy in 2015. This means that all applicable laws and regulations to fight bribery and corruption must be fulfilled, and recommendations followed that are issued by international organizations such as the OECD and United Nations, as well as any corporate good governance recommendations published by the Spanish Securities Market Commission (CNMV).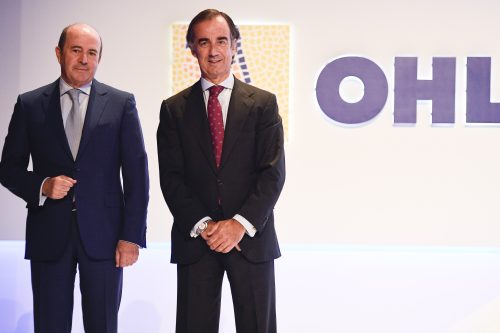 From left to right: José Antonio Fernández Gallar and Juan Villar-Mir de Fuentes, CEO and Chairman of the company.