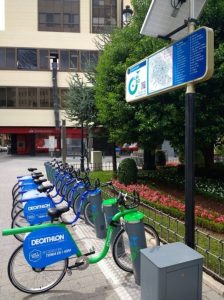 In its commitment to sustainable mobility, OHL Servicios-Ingesan manages the public bicycle loan service, Albabici, in the city of Albacete. The initiative, carried out together with LaBici, involves the management of 300 bicycles, 64 of them electric, distributed in 32 stations operating between 06:00 and 00:00 hours, every day of the year. Since its launch last September, more than 57,100 bicycle loans have been made and users exceed 1,500.
The bicycles have a functional design and are resistant to damage and vandalism. The conventional models have three gears and the electric ones incorporate a motor with three speeds, installed in the front wheel, and battery with a range of up to 30 km.
The management and provision of the service is carried out by means of specific software that allows the monitoring, in real time, of the state of the stations and bicycles, as well as of the incidents and warnings of the users. In addition, the system incorporates the collection of usage data, which allows for statistics and the identification of the most used stations, peak hours, etc., in order to adapt and improve the service.
At the end of 2019, the service had 1,268 long-term users – with an annual subscription – and the system has been used on a regular basis by 536 more users. In terms of preferences for the type of bicycle, 65% of users make use of conventional bicycles and 35% of electric ones.