[addtoany buttons="email,facebook,twitter,linkedin,whatsapp"]
OHLA USA, awarded for its Aurora Transportation Center Pedestrian Bridge project
OHLA Group, via its subsidiary Judlau Contracting, has obtained new recognition for the Aurora Transportation Center enhancements and pedestrian bridge over the Fox River (Illinois) project, which has been selected as Project of the Year by the American Public Works Association in the Transportation category.
The new 900-foot pedestrian bridge connects the east and west sides of the Fox River

and goes over a natural island known as Blues Island. The infrastructure will provide access to the Aurora Transportation Center from neighborhoods on the west side of the river,

doubling the city's transportation development potential.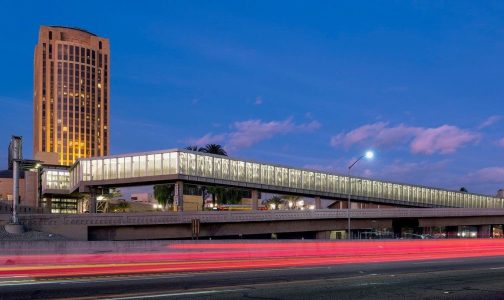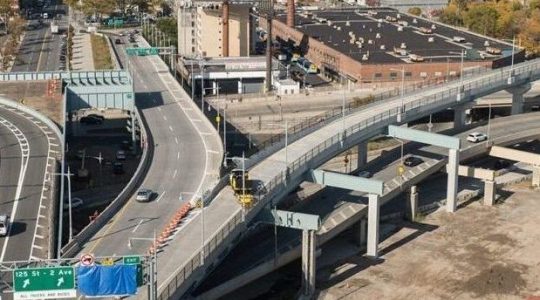 This award is in addition to other recognitions that highlight our activity in the U.S. Thus, our subsidiary OHLA USA has been awarded twice by the industry publication, ENR, as Regional Contractor of the Year 2021 (already awarded in 2019 in New York) and for the design and construction of the

Patsaouras Plaza Busway Station project in Los Angeles, named Best Regional Project in the Transportation category.
Judlau Contracting, OHLA's New York subsidiary, has received

the National Award of Merit from the Design-Build Institute of America for the execution of a new elevated ramp connecting the Robert F. Kennedy Bridge

to the northbound Harlem River Drive in New York.
In addition to these achievements,

OHLA USA continues to consolidate its position among the largest contractors in the U.S. and is ranked 70th in ENR's prestigious annual contractor ranking of 400 companies,

up five places from the previous year.
OHLA's footprint in the USA
OHLA has boosted its presence in the US with the

award of a $379 million contract to improve traffic flow and travel reliability along the I-5 North freeway in California.

This is the largest contract won by the company since 2017, when it was awarded in a joint venture to improve the I-405 highway in California, for $1.4 billion.
In addition to the I-5 project, this year OHLA has won new contracts such as the one awarded by the New York Department of Transportation ($150 million),

the improvement of the Tri-State Tollway (I-294) in Illinois for $112 million, and the construction of a section of State Route 71, in California, valued at $86 million.
OHLA has been present in the U.S. market since 2006 via its subsidiaries Community Asphalt, Judlau Contracting, OHLA USA, OHLA Building, and OHLA Systems & Electric. It currently operates in California, New York, New Jersey, Massachusetts, Illinois, Texas and Florida. Its project portfolio includes highways, bridges, railway infrastructure, tunnels, hydraulic works, and singular buildings.