About 10,000 OHL Spain employees in the Services division, 80% of the company's workforce, are providing service during the state of emergency in the areas of cleaning, maintenance, urban and retirement homes services, on the basis of multiple contracts that the company is executing nationwide.
OHL Servicios is assigning nearly 1,600 employees to the management of retirement homes, supervised apartments, care for dependent adults, social and health management and hospital management, all of which are essential actions in the emergency situation that the country is experiencing.
With regard to the latter, it is important to mention the contracts for the hospitals located in Burgos with nearly 200 employees, as well as the employees at the primary care center of the Institut Catalá de la Salut, the home care service for the city councils of A Coruña, Vila-real, Isla Cristina in Huelva, Algeciras in Cádiz, Yecla in Murcia, Terrassa in Barcelona and to the city council of Málaga.
In addition, over 130 OHL employees are taking part in the management of retirement homes in Fontiveros in Ávila, Chillón in Ciudad Real, Brenes in Seville and Poble Nou in Barcelona.
In addition, OHL provides care services for people in multiple supervised apartments in Madrid and Barcelona. In the area of urban services, more than 2,500 employees are still working during the state of emergency in Madrid, Torrejón, Albacete, Granollers, Jerez de la Frontera, Cartaya and Fuenlabrada, among others. Street cleaners have focused their work on sidewalk and roadway disinfection in compliance with the disinfection protocols established by the Ministry of Health.
The urban waste collection services are at full capacity, removing thousands of tons of waste every night generated in private homes. In addition, services have had to be strengthened in order to be able to remove waste from hospital centers that can be processed with urban waste.
Moreover, in the area of maintenance of facilities, services are being rendered at essential places such as the hospitals of La Princesa, Arganda del Rey, Torrejón de Ardoz, in Madrid, the hospitals in Zamora, Ávila, Burgos, Huercal-Overa, Bola Azul, Almería Red Cross, Barcelona Hospital Clinic, Reus Hospital and the Hospitals in Vinalopó and Torrevieja; with the strong purpose of providing support to essential facilities to keep these centers under such conditions that patients can be treated.
Acknowledged by the Mayor of Madrid
The Mayor of Madrid, José Luis Martínez-Almeida, has sent a thank-you letter to municipal employees who are undertaking an enormous amount of work in Madrid.
Among them are the more than 1,000 OHL Servicios employees who cleaning and maintaining public spaces and green areas in the districts of Hortaleza, Barajas, Ciudad Lineal and San Blas-Canillejas and the more than 800 waste collection workers in 11 Madrid districts.
OHL would like to thank all its OHL Servicios employees for the great work and effort they are doing.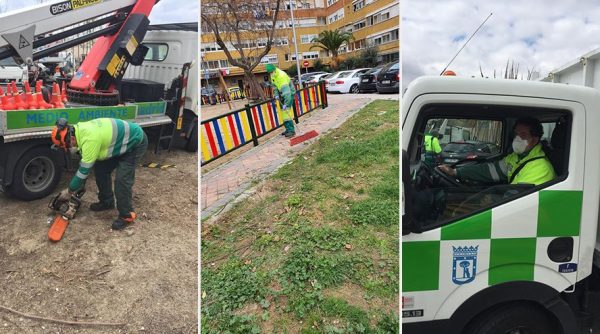 2,500 OHL Servicios employees who cleaning and maintaining public spaces during the State of Emergency