OHL has completed the construction of the National Forensic Mental Health Hospital (NFMHS) in Portrane, north of Dublin (Ireland). The new hospital complex, comprising 10 buildings and 24,000 square meters (m2) surface, has been built according to the criteria defined by the reference BREEAM Very Good sustainable construction certification.
OHL and its partner JJ Rhatigan, a local company specializing in unique buildings, began the construction works of the NFMHS, with a budget of €130 million, following the award of the project by the client, Health Service Executive.
The complex has been built using the Building Information Modeling (BIM) methodology. It is integrated into the St. Ita's Hospital campus, comprises 10 hospital wards, a primary health care and therapy center plus an administrative complex with buildings for energy production, maintenance and horticulture, among other facilities. The campus, considered a high-security facility, is protected by a 2 km-long and 5.2 m-high perimeter.
OHL is endorsed by nine decades of experience in the field of hospital construction, with more than 150 new hospitals –equivalent to nearly 6 million m2 and more than 60,000 beds–, around 100 healthcare centers and more than 200 renovation and rehabilitation projects.
The activity, which began in Spain, is extending to countries such as the USA, Chile, the Czech Republic, Portugal, Mexico, Argentina, Ecuador, Uruguay and the Antilles, among others. The construction of the Toledo University Hospital (Spain), the De la Reina Military Hospital and the Curicó Hospital (both in Chile), the extensions of The Lennar Foundation Medical Center and the Miami Cardiac & Vascular Institute, both in Miami (Florida, USA), and the refurbishment and extension of the International Centre for Clinical Research in the Czech Republic, are some of the company's reference projects in the hospital field.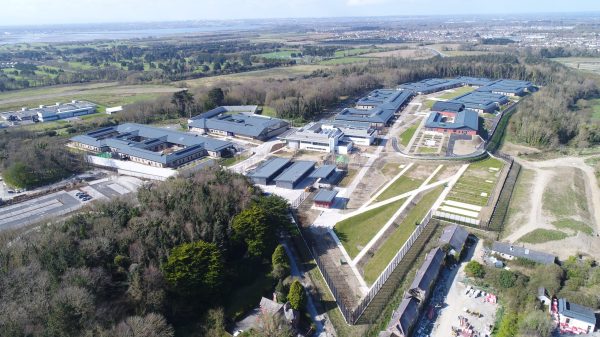 Aerial view of the National Forensic Mental Health Hospital in Portrane, north of Dublin (Ireland).