OHL, through OHL Servicios and the subsidiary ELSAN, has reinforced its commitment and solidarity with the city of Madrid by strengthening its cleaning and road reconditioning to mitigate the effects of the storm that has affected the entire center of Spain and especially Madrid.
In addition, once the storm subsided, the work has focused on cleaning the roads, as well as providing access to points of basic need, such as hospitals, fire stations and industrial estates, among others, in solidarity with the rest of the essential citizens' health and supply services.
OHL Servicios-Ingesan's team, which serves the Madrid districts of Ciudad Lineal, Hortaleza, San Blas-Canillejas and Barajas, with a total of nearly 600,000 residents, is carrying out all the necessary work to ensure the passability of the roads, including gritting sidewalks and roads, and the removal of snow, branches and other things that were dragged by the storm.
The company has reinforced its regular staff of 1,100 workers with 200 new members joining the cleaning and maintenance team for green spaces, and has also increased its vehicle fleet with new support machinery – eight mixed excavators, six mini excavators, two rotary excavators, twenty trucks, six loaders, one scraper and four four four-wheel drive tractors.
Since January 5th, 1,500 tons of salt have been spread – treating 15,000,000 m2 of surface – and 2,000 citizens' requests have been processed. Additionally so far, branches and other obstacles have been removed from eight main roads, 26 accesses to areas that were not connected have been cleared, and 30% of the trees have been checked, among other tasks.
For its part, ELSAN, OHL's subsidiary dedicated to providing urban, road and infrastructure services, has focused on maintaining the operation of the A-1 highway, specifically the area covering 89 kilometers between kilometer 12.0 and 101.0 and the N-320 between kilometer 317.0 and 341.2.
In spite of the simultaneous snowfall along the entire section, and thanks to the efforts of nearly 130 workers and a fleet of 40 6×6 snowplows, the road was kept passable at all times, using, from 08:00 pm on Jan. 06, 2021 to 08:00 am on Jan. 11, 2021, 1,599 tons of sodium chloride, 394,200 liters of brine and 12,550 kg of calcium chloride, on a total of 64,510 km traveled with the means established in the contract.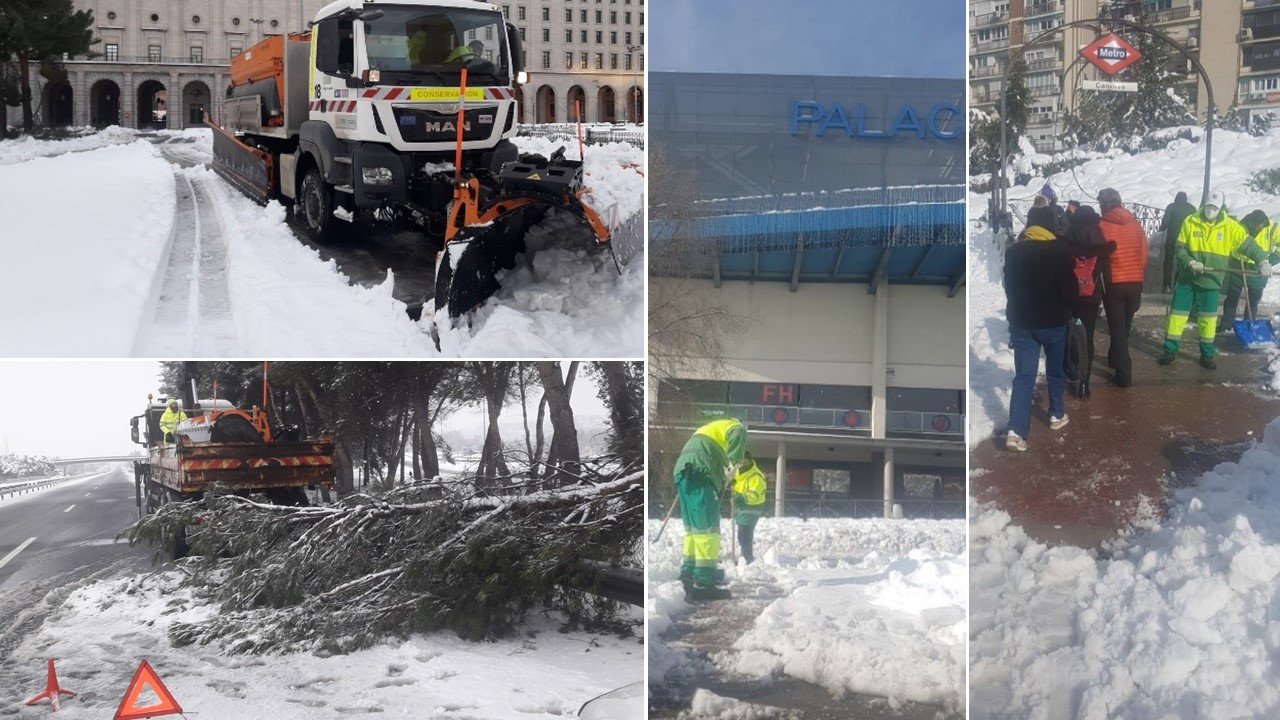 OHL Servicios and ELSAN teams continue working on road cleaning after the storm.
OHL would like to thank all the people involved in alleviating the consequences of the storm on the peninsula
and, especially, the OHL Servicios and ELSAN teams.