OHL has shown its support for a green society at the event held this Friday, 11 October, in Madrid, under the motto Towards a Sustainable Europe in 2030. The initiative, sponsored by Forética, an organization that promotes the integration of social, environmental and good governance issues into business and organization strategy and management in Spain and Latin America, of which OHL is a sponsor member since 2015, has also served as a framework to render the New Deal for Europe manifesto visible. Such document, to which more than 270 enterprises have adhered, represented by its CEOs and senior managers, is sponsored by CSR Europe, one of Europe's leading entities in sustainability and corporate responsibility, whose network covers more than 10,000 enterprises. OHL is the only Spanish construction company adhered to this initiative.
On behalf of OHL, this initiative was joined by its CEO, José Antonio Fernández Gallar, ratifying the company's commitment to sustainability, by implementing a strategy in its business model in line the UN 2030 Agenda and its Sustainable Development Goals. Of interest in the matter is that OHL belongs to the Spanish Global Compact Network since it was founded in 2004.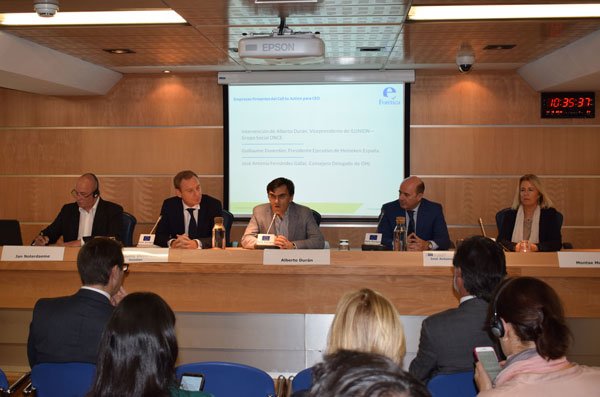 José Antonio Fernández Gallar (second from right), CEO of OHL.