OHL Servicios, an area that manages, among others, the activities of urban services of OHL, continues to bet on sustainability and innovation with the incorporation of new 100% electric vehicles. In this way, the company reinforces its commitment to reducing the carbon footprint of its activities and to the circular economy, for which it has relied on BUCHER as a first-rate supplier for testing electric vehicles.
This new fleet has already been incorporated into the service of Boadilla del Monte (Madrid), where 100% electric sweeper trucks are being tested and the company would employ it in new contracts throughout Spain.
In collaboration with BUCHER, the vehicles will be used to improve the mechanical and mixed sweeping services of the Boadilla del Monte developments. For this purpose, OHL Servicios has selected a dual suction sweeper on a truck with a 6 ton payload and a bodywork on a 16 ton DAF chassis 100% electric and regenerative brake.
Specifically, the truck has a range of 200 kilometers and a sweeping range of 8 hours. It offers two charging options, a fast 4/5 hours at 63 Amp and a slow 8/9 hours at 32 Amp, which allows it to adapt to the needs of the different work shifts and the organizational requirements of the service. This new electric heavy vehicle joins the rest of the fleet of Boadilla del Monte service, which is already mostly electric and CNG.
OHL Servicios already has an electric fleet in its services in Madrid, Granollers, Albacete, Seville and Huelva, demonstrating the company's firm commitment not only to provide the best service, but also to respect the environment through vehicles that move with clean energy. It also responds to the involvement with sustainability of municipalities such as Barcelona and Madrid.
OHL Servicios works in favor of the fight against Covid-19, for which it has developed and incorporated into the usual cleaning procedure an advanced surface and air disinfection system that inactivates the viral load of pathogens by 99.9%.
This system, the Zenzoe robot, acts by means of ultraviolet light and has been developed in collaboration with the Spanish technologies ASTI Mobile Robotics and BOOS Technical Lighting. Its operation is characterized by the application of ultraviolet light synchronized with the movement of the robotic vehicle and allows immediate use of the disinfected area. In addition, it is completely environmentally friendly and uses electrical energy to move around.
Member of the Association of Public Cleaning Companies
OHL Servicios is a member of the Association of Public Cleaning Companies, an association of companies specializing in street cleaning, waste collection and treatment; and of the Spanish Association of Parks and Gardens Companies, which specializes in green space maintenance activities.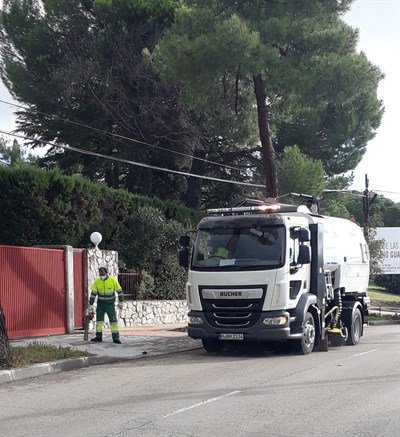 OHL Servicios already has an electric fleet in its services in Madrid, Granollers, Albacete, Seville and Huelva(Spain).