The prestigious publication ENR New York has announced that Judlau Contracting, Inc. is ENR New York's 2019 Contractor of the Year.
In naming Judlau, ENR New York cited the company's "notable accomplishments," including the Canarsie Tunnel rehabilitation, the Throgs Neck Bridge project, the Riverside Drive Viaduct rehabilitation, the Enhanced Stations Initiative, and the Queens Midtown Tunnel rehabilitation project.
Judlau is a leader in the heavy construction industry, specializing in large public works projects, including tunnels, bridges, subways, highways, electrical and signal modernization, performed by design-build and design-bid-build. From its early roots as a water main and sewer contractor, Judlau has grown to successfully build large, complex infrastructure projects. The company is proud to be ISO 9001:2015 Registered.
OHL USA ranks 15th in the Top Domestic Heavy Contractors and 18th in Top 20 Contractors by Sector in Transportation
In addition, OHL USA has placed among the top 20 companies in the prestigious Engineering News-Record (ENR) magazine´s rankings of Transportation and Top Domestic Heavy Contractors. These rankings are included in the ENR 2019 Top 400 Contractors list, in which OHL USA ranks 77th, with revenues of 1.1 billion dollars (958.7 million euros).
In particular, OHL USA, Inc. has placed 15th among Top Domestic Heavy Contractors, with revenue of 973.6 million dollars (858.7 million euros), essentially generated in the areas of transportation (81%) and water and sewer (9%). In the Top 20 Contractors by Sector, OHL USA ranks 18th in Transportation, a reflection of its strong presence and performance in this area in major geographies across the USA.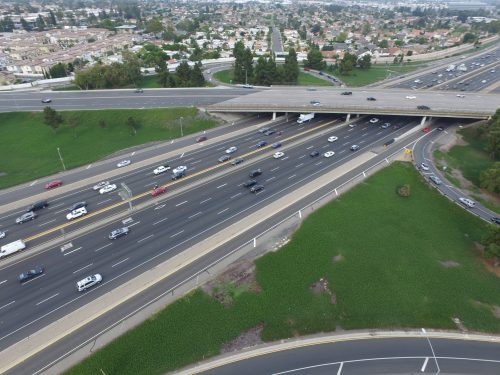 Aerial view of the I-405, in California (USA).