OHLA appoints Daniel Ruiz as North America General Manager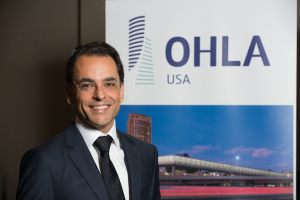 DANIEL RUIZ, OHLA NORTH AMERICA GENERAL MANAGER
OHLA has appointed Daniel Ruiz as the new North America General Manager. He will replace Ashok Patel, who is retiring after a distinguished career.
Daniel Ruiz has relevant knowledge of the U.S. infrastructure market. He has spent fifteen of the twenty-three years of his professional career in this country.
He began his career at Dragados and has extensive experience in the sector in Europe, Canada and the United States, carrying out a wide variety of projects including the improvement of the I-595 Corridor in Florida (USA) and the Rt. Herb Gray Parkway in Ontario (Canada). Prior to joining OHLA as Director of Operations in 2019, he held the same position at a construction company in Florida.
With this appointment, OHLA's management team highlights the company's firm commitment to the United States and its firm commitment to continue promoting infrastructure that enhances the country's growth and progress.
USA, a relevant market for OHLA
The United States is a relevant market for OHLA. The company, which operates as a local company in this country, began operating in the United States in 2006 and is currently present in California, New York, New Jersey, Massachusetts, Illinois, Texas and Florida through its subsidiaries OHLA USA, Judlau, Community Asphalt and OHLA Building.
At the end of 2021, the company had more than 1,630 employees in the country and a short-term portfolio of 2,162 million euros. This represents more than 40% of the Group's short-term portfolio.
More than 1 billion euros in contracts
In 2021, OHLA has been awarded new contracts in the USA worth more than 1 billion euros. Among the most recent are the improvement of the capacity of I-5 along 21 km in Los Angeles County, with a contract value of 321 million euros, and the construction of Destination Sport Miami, the largest indoor multi-sports facility in North America, for 132 million euros. Other projects include the 128 million euro renovation of the West 79th Street traffic circle in New York City, listed on the National Register of Historic Places, and the 310.2 million euro design and construction of the South Corridor in Florida.