25N
International Day for the Elimination of Violence against Women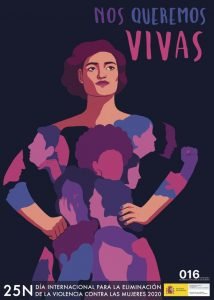 On the occasion of the International Day for the Elimination of Violence against Women, on November 25, Fernando Martínez, Head of Human Resources in the South Delegation, and Rut Perez, Coordinator of Labor Relations and Agent for Equality, both in OHL Servicios-Ingesan, give us their impressions on this issue.
OHL has accumulated nearly two decades of commitment to the labor integration of groups at risk of social exclusion, mainly through OHL Servicios-Ingesan. Fernando, in the area of Human Resources specifically, how is this sensitivity articulated?
I believe that, at this point, the close cooperation we have with social organizations such as the Integra Foundation, Adecco Foundation, Atenea Foundation and Cáritas, as well as with the Public Employment Service, is essential. Once the selection process has been completed, we incorporate people at risk of social exclusion into our staff through these organizations, including women who have been victims of gender violence. We also sign internship cooperation agreements that complement the training programs that these organizations provide in areas such as Home Care, Cleaning and Garden Maintenance, in which OHL Servicios-Ingesan specializes.
As Labor Relations Coordinator, Rut, what are your impressions in this regard?
I agree with Fernando in highlighting the cooperation agreements with social organizations in order to promote labor integration in companies. In this line, since 2013 we are part of the "Network of Companies for a Society Free of Gender Violence", promoted by the Ministry of Equality and in which, in 2019, we took a further step to join this network in Murcia. In addition, I think it is important to highlight the number of new contracts within this group, over 230, and that, along with other initiatives, they have translated into acknowledgements and awards from the Spanish Red Cross and Integra Foundation.
From your experience, can you comment on the impact that labor market integration has on the lives of people affected by this situation?
It is certainly an especially sensitive subject, but I can share that people report in particular the new excitement and the freedom that comes into their lives when they're hired. Wanting to get up again every day, feeling independent, smiling again,… in short, it means being a new woman.
In my opinion, labor market integration for these women is, in many cases, a decisive tool to leave the situation of gender violence behind, the possibility of being self-sufficient and being able to start a new life.
As professionals in areas especially related to people, what does it mean for you to work in a company that is especially sensitive to this cause?
It fills me with pride to be able to share in the different forums in which I participate, not only labor forums, but also social ones, that I belong to a company especially sensitized not only to this cause, but also to other related causes. Furthermore, I especially value the total freedom I have to promote and participate in initiatives to support the eradication of these cases from our society.
It is a great privilege for me to work in a company with social concerns, with commitment in its DNA. Especially because I believe that, of all the areas involved in eradicating gender violence, promoting the employment of women who are victims of this type of violence is one of the most important and it's really necessary.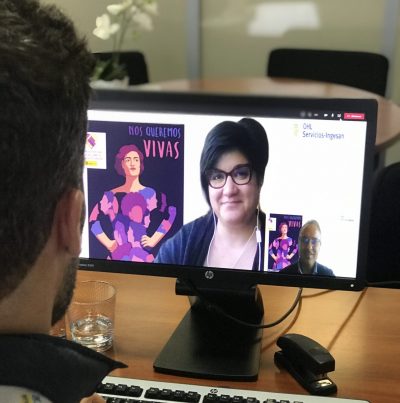 Rut and Fernando, supporting the dissemination of the campaign "We want to live", on the occasion of the commemoration of the International Day for the Elimination of Violence against Women.
In this line, would you like to highlight any aspect related to this topic?
Personally, I would like to highlight my experience in the workshops I teach to groups at risk of social exclusion. In one of the most recent ones, called "The Job of Finding Employment", two women who were victims of abuse by their partners shared their experience and I could see, first hand, how the opportunity they were given, in this case by the Integra Foundation, to join the labor market again, filled them with optimism and hope for a new stage in their lives.