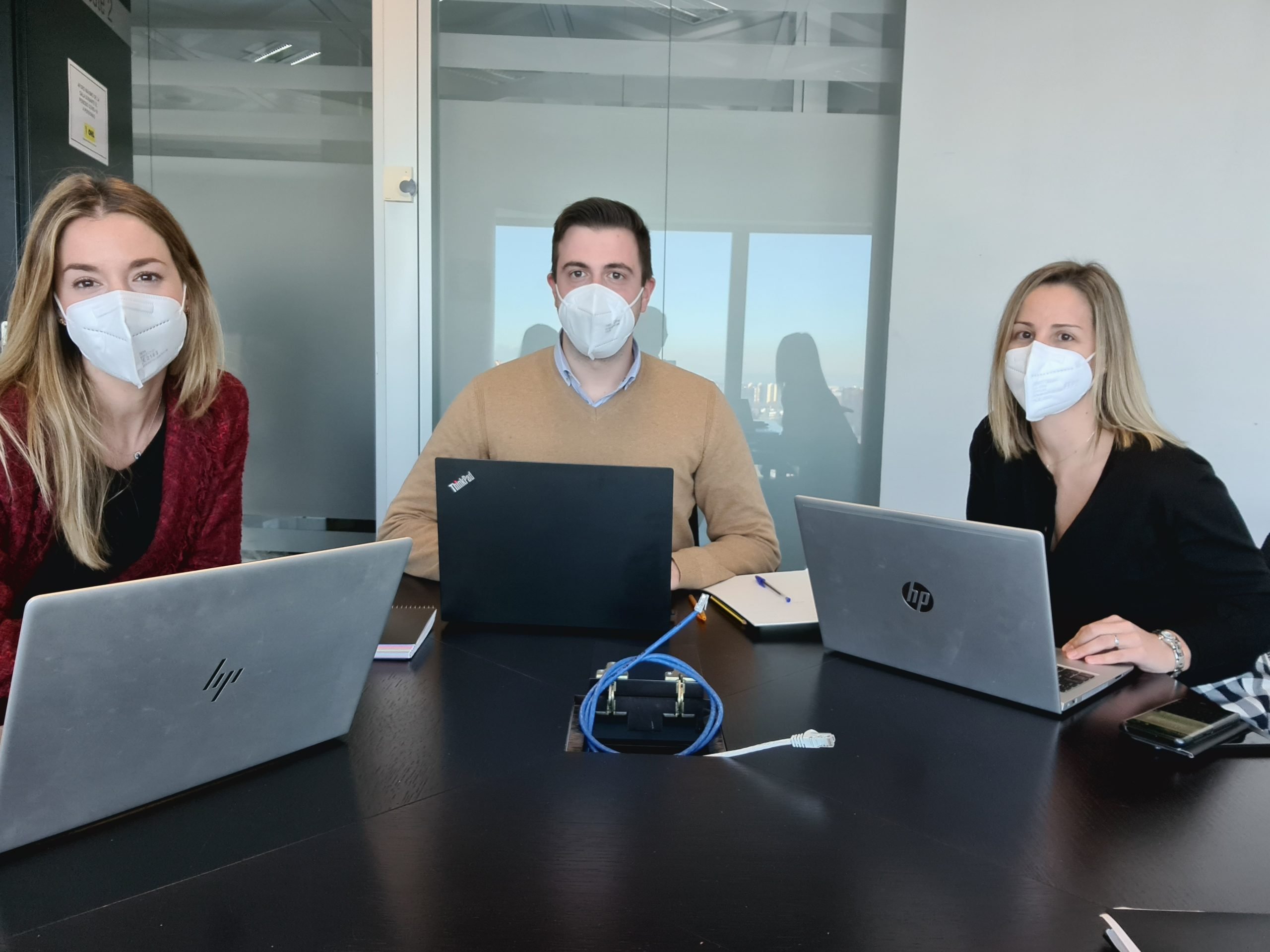 Rubén Corral, in the middle, with Beatriz Rubio (right) and Judith Iglesias (left), Head and Technician of OHL's Sustainability Area, respectively.
"Thanks to OHL, I have a cross-cutting vision of what it's like to work in a large global company."
Rubén Corral holds the position of technician in the Sustainability Area after an internship at OHL which served to complete his training in environmental sciences, risk and disaster management, and land use planning.
Rubén, did you know OHL before you joined? What was your perception of the company?
For me, OHL has been and is a reference company in the construction sector, both nationally and internationally. It's very difficult not to be familiar with such a big company, which undertakes so many important projects all over the world has even reached milestones among the companies of its sector in Spain. Moreover, I'm from Madrid and some of its most emblematic buildings bear OHL's signature.
This is your first professional experience in the Sustainability Area, what are the main lines of work you are tackling?
I joined OHL in September 2019 through a cooperation agreement with the Autonomous University of Madrid, where I was studying a "Master's Degree in Sustainable Territorial Planning and Development". Since then, I've had the opportunity to learn how the Sustainability Area of a large international company works by actively participating in the initiatives it leads. Among them are the implementation of the Sustainability Plan, the drafting of the Annual Integrated Report – among other reports and analyses – and the participation in related events and forums.
In addition, I collaborate in the implementation of social action and volunteering projects mainly related to the social and labor inclusion of vulnerable groups.
"I'm convinced that working for OHL will bring a lot of value to my professional career, which is just taking off"
Of all the experiences you've had at OHL to date, which one would you highlight?
Although it is really difficult for me to choose, I think the initiative that has had the greatest impact on me, both personally and professionally, is the meeting in favor of groups with different physical and intellectual abilities that we held in Barcelona at the end of 2019.
This event, promoted by OHL Servicios-Ingesan in collaboration with the Sustainability Area and social entities such as Acurat and the Adecco Foundation, brought together more than a hundred people, including employees and beneficiaries, with the aim of promoting inclusion through adapted sports and games. It was really fun, although the best part was being able to meet such wonderful people with so much strength. As an employee, the fact that OHL cares about inclusive activities makes me feel proud of the place where I work.
In your opinion, do you think that working at OHL adds value to your career?
Yes, I'm sure about it. Thanks to OHL, I have a cross-cutting and multidisciplinary vision of what it is to work in a large company with projects in Spain and abroad. In addition, I have learned a great deal, including in particular my ability to face new challenges and to know that I'm capable of adapting quickly to very different projects.
On the other hand, I've seen the benefits of good teamwork first-hand, as well as of being proactive in your job. This is the best way to complete day-to-day tasks in the best possible way.
Would you recommend this experience to other young people?
Undoubtedly, yes. OHL is a company that is betting on young talent and we should take advantage of this opportunity. It is a great place to learn from great professionals and to develop yourself from a working point of view. The working environment is great. I felt very welcomed by my colleagues and, more specifically, by my department from the first day and I've always felt supported and backed up by all of them. Moreover, having the possibility to work on such diverse projects is enriching and rewarding.
In short, all this helps me to face my day-to-day work with positivity, trying to do my best and always valuing the place where I work.
"I am deeply grateful to OHLA for giving me the...
Leer más
"We have to bet on women's leadership in the construction...
Leer más