OHLA awarded the construction of the Academic Hub & Library of the Technological University Dublin for nearly 65 million euros
OHLA has been awarded the construction of the Academic Hub & Library of the Technological University Dublin (TU Dublin), in Ireland, for an amount close to 65 million euros. The building, located on one of the city's most important university campuses, will be built by OHLA with local partner Townlink.
The project is part of the initial phase of the redevelopment plan for the Grangegorman Campus and is planned as a cluster of buildings and courtyards, both existing and new, around the historic North House East and North House West protected structures.
The project will include approximately 12,580m² of development works with 9,505m2 of new build construction, in addition to the retained elements of the existing structures. The project is subject to the requirements of the Grangegorman Campus Strategic Development Zone planning scheme.
In addition, includes the conversion of the North House, a significant protected structure around which the Academic Hub rises. The main entrance hall to the library will be placed in the eastern section of the North House, at first floor level, reflecting the pivotal role of this mid-19th century institutional building. It will also host student commons, a student support services' area, an exhibition space and a cafe, among other facilities. The Academic Hub & Library is seen as a key element within the redevelopment of the Grangegorman Campus. The complex is required to be built and completed to a high level of detail and standard of finish, in order to respond to the current and future needs and requirements of TU Dublin and its student population. Its iconic design, will include stone and roughcast render, with windows carefully considered for book readers, allowing them to control light quality, while affording views of the distant Dublin Mountains.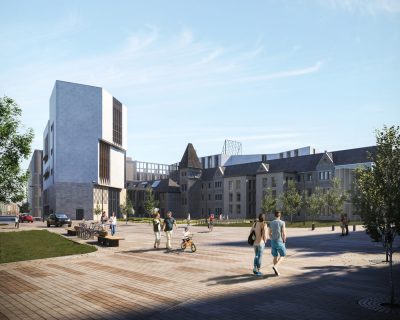 Ireland, a growing market for OHLA
OHLA has a significant presence in the field of infrastructures in Ireland. In this country it has completed projects such as the National Forensic Mental Health Hospital (NFMHS). This new hospital complex, comprising 10 buildings and 24,000 m2 of floor space, has been built in accordance with the criteria defined by the BREEAM Very Good sustainable construction certification and the Building Information Modeling (BIM), whose methodology has been used in its execution.
The company has also executed the Social Housing Bundle 2 project, which comprises the construction and maintenance over 25 years of 465 sustainable social housing units (110 flats and 355 houses), already delivered, in the counties of Cork, Kildare, Clare, Galway, Waterford and Roscommon. BIM methodology has been applied in its construction, as well as Nearly Zero Energy Buildings (nZEB) criteria, in compliance with the requirements of the Energy Performance of Buildings Directive (2010/31/EC).