The company strengthens its concessions portfolio
OHLA awarded the construction, operation and maintenance of the Accesos Norte 2 corridor in Colombia with an investment of 315 million euros
The consortium formed by OHLA and the Colombian company Termotecnica Coindustrial has started the operation and priority maintenance of the Accessos Norte 2 contract for a period of 29 years. The project contemplates investments in works worth close to 315 million euros (COP$1.3B). With this award, OHLA strengthens its concessions portfolio after being awarded the Biobío Hospital network in Chile at the end of 2021.
This corridor, which is part of the Bicentennial Concessions program, will benefit close to eight million inhabitants of the area of influence of the project and seeks to improve mobility and decongest the traffic of vehicles circulating between Bogotá and the connection of the capital with the north of the country.
Among the actions to be carried out are the construction of an exclusive lane for the BRT (Bus Rapid Transit) system, TransMilenio, from 192nd Street to 235th Street, and the construction of 11.6 km of public space: sidewalks, bike paths, and improvements to turns and intersections that will optimize pedestrian mobility. The Autopista Norte project includes the expansion from three to six lanes, two for mixed vehicles and one for the TransMilenio system.
This is complemented by the construction of the Perimetral de Sopo, a project that connects the Autopista Norte, at the Aposentos district (near Briceño), with the 4G Perimetral de Oriente project and involves the improvement of 5.5 km and the construction of 1.7 km of new road.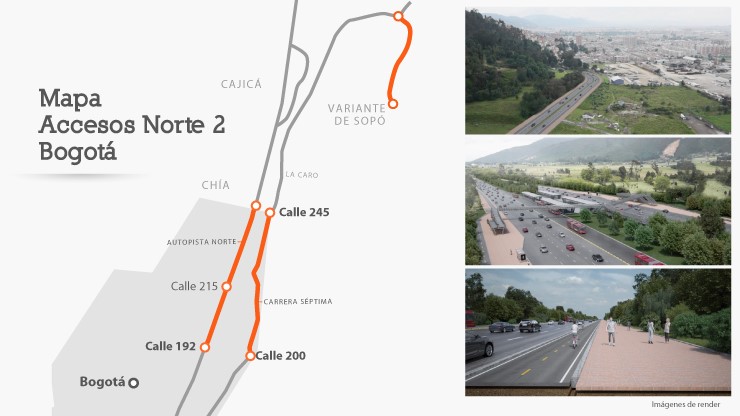 Map of Accesses Norte 2 Bogotá that will improve mobility along Autopista Norte, from 192nd to 235th streets, Carrera Séptima and the municipality of Sopó. Image credit: ANI.