The building projects, which will be built under sustainability standards, will benefit more than 2,200 students Titular
OHLA awarded the design and construction of four schools in Ireland for nearly 75 million euros
OHLA has added to its portfolio the design and construction of four schools for an amount close to 75 million euros. The initiatives, carried out in UTE and located in different parts of the country, have been awarded by the Department of Education of the Government of Ireland and will benefit more than 2,200 primary and secondary school students, including areas dedicated exclusively to the development of students with special needs
Lot 4A, for Scioil an Spiraid Naoimh Primary School (Laytown, County Meath), includes demolition of the existing single story school building and removal of the prefabricated buildings, as well as the construction of a new 4,100 m2 two-story building with 24 classrooms, a general purpose area, a special needs unit, ancillary teaching and staff accommodation, among other works.
The most notable project, Lot 4B, is a project for Belmayne ETSS secondary school in Dublin. The initiative includes the design and construction of a new 11,747 m2 building, with two- and three-story areas, and capacity for 1,000 students. The facility will include four special needs rooms, a general purpose area, a PE hall and staff accommodations.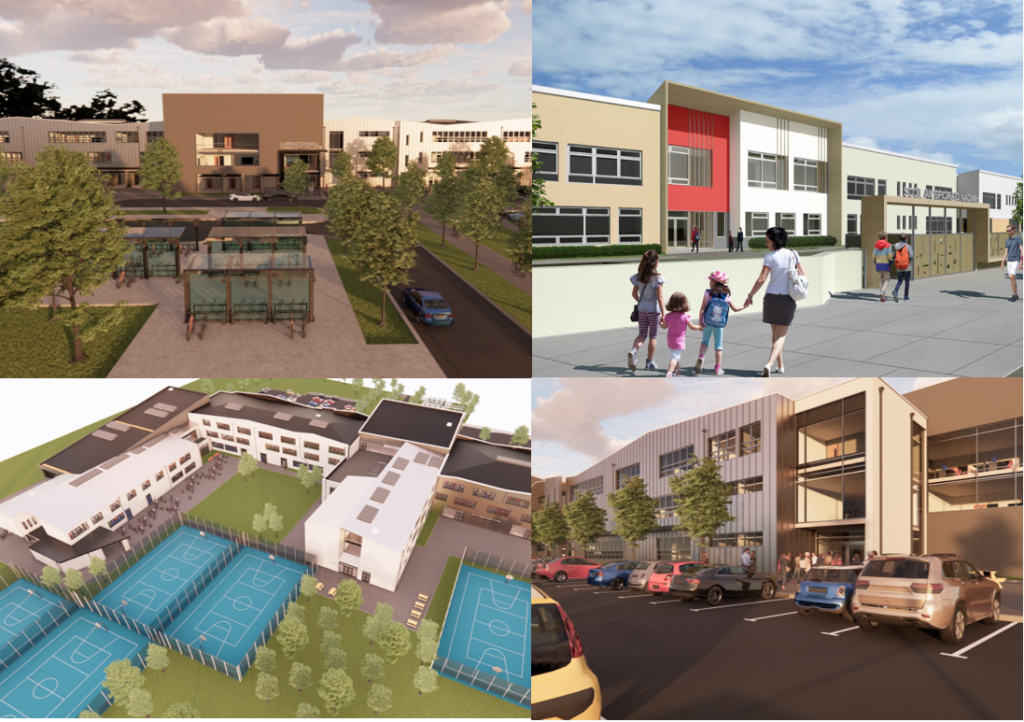 The project also contemplates the construction of sports and green areas, an access road, bicycle lanes, as well as landscaping, connection to public services, power substation and other associated works.
Lot 4C will be developed at Ashbourne Community National School (Ashbourne, County Meath) and consists of the design and construction of a new 3,832 m2, 2-storey, 16-classroom primary school building with a special educational needs area, as well as a general purpose room, accommodation and external works including two basketball courts and parking spaces.
Finally, Lot 4D, for Stapolin ETNS School (Stapolin, Dublin), for the design and construction of a new 3,623 m2 3-story, 16-classroom elementary school building with a two-classroom special needs unit, a general purpose hall and ancillary accommodation. Also included is a new rest area with new access for pedestrians and cyclists and all associated works.
OHLA will carry out the project applying sustainable construction criteria. Thus, both on site and in its operation phase, it will apply the NZEB (Near Zero Energy Building) and BER (Building Energy Rating) A3 certification standards, which confirm the optimal energy performance of
In terms of digitalization, it is remarkable the implementation of BIM Level 2 methodologies focused on risk mitigation during the design phase, a more efficient management of the different construction processes and the delivery to the client of a digital twin to support the automated management of the assets during the operation phase.