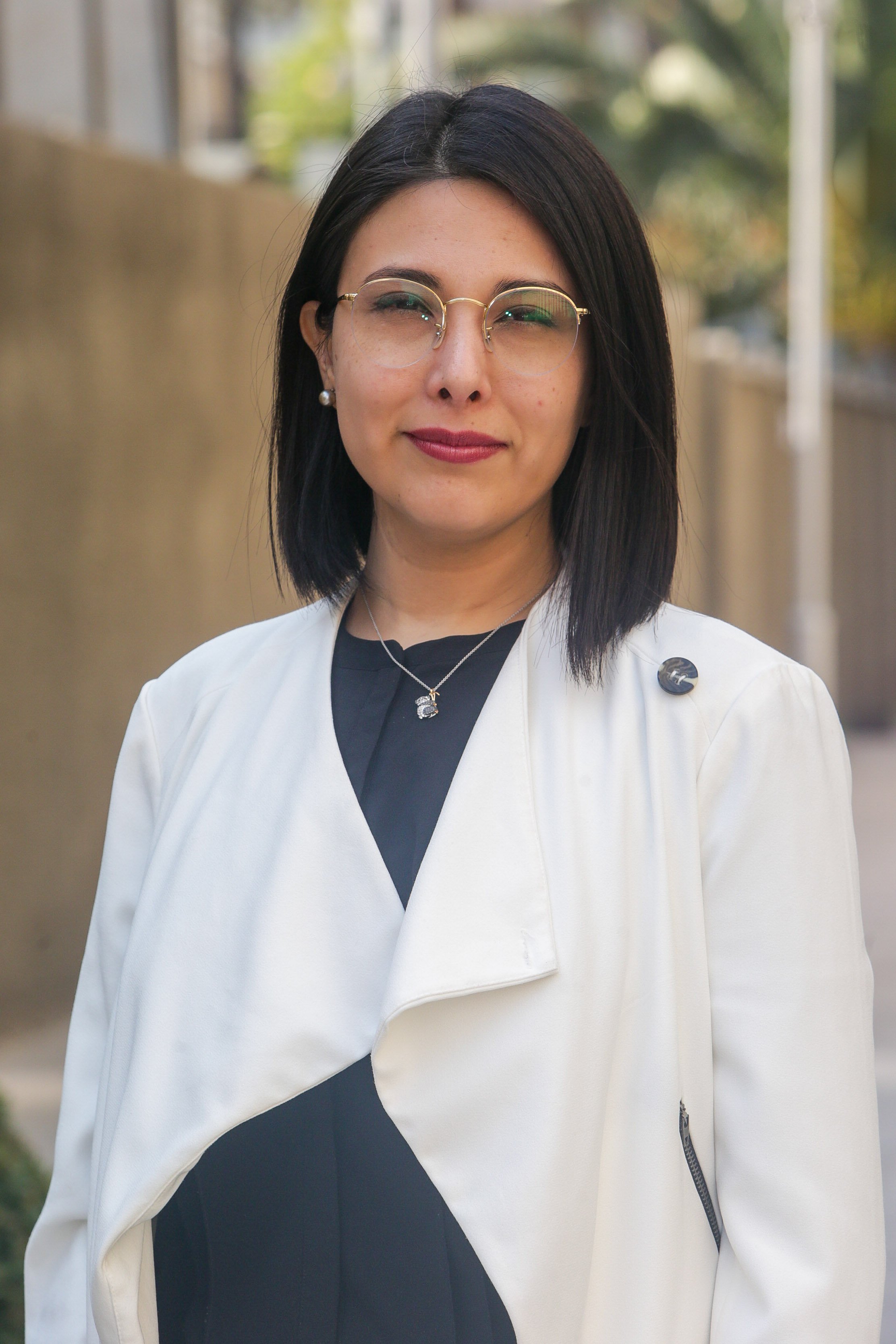 "For professionals, the challenge is to leave our comfort zone and be open to change. The difficulty does not lie in learning how to use new digital tools, the challenge involves living under digital transformation"
Head of BIM and Digital Transformation at OHL Chile
Since she joined the team in 2016, she is currently immersed in modernizing OHL's processes and digital transformation in Chile, and coordinates the implantation of Building Information Modeling (BIM) collaborative technology in construction of the new Curicó Hospital, amongst other projects. As an architect with a passion for technology, she strives to ensure that new digital tools have an integrating role, helping employees improve their work, even on-site. 
1. Your professional responsibilities are part of OHL's commitment to process modernization and digitalization. In your opinion, what should be the underlying values of this type of project?
Digital transformation should have three cornerstones in mind: persons, technology and processes. If any of these variables is removed from the equation, no actual value is contributed to improve our standard and this, eventually, results in occasional improvements that fade out over time. In actual fact, digital transformation is a continuous improvement process that helps identify and enhance the value of what we do. Purchasing software does not constitute digital transformation at all.
2. RDI Policy is the framework under which the company carries out its transformation in Chile. How is the company positioned in Chile in the matter?
The progress experienced in OHL's digital transformation in Chile, particularly over the last two years, is notable. Now is the time for what we have to mature and to obtain the lessons we have learnt. In the short-term, our focus is to successfully complete the new Curicó Hospital, where all our lines of development are operating. Never before had so much information been handled, in such an accessible manner, which is why our permanent challenge is to make our worksite back-up stronger, with clear and reliable processes.
3. You have mentioned that there are operating lines of work, could you point one out?
The priority of our lines of work that are currently operating is the same: worksite staff. Consequently, we work to provide a reply to the following question: what can we do in order to facilitate more efficient work? In my opinion, worksite-oriented BIM training (developed by an external and certified body) and the implantation of on-site mobile devices with specific BIM applications are, until now, two of the most relevant initiatives.
4. It is a fact that BIM as a concept is making an impact over the last few years. For those who are not familiar with it, could you provide a summary of what it is and what it consists of?
Building Information Modeling, usually known as BIM, is a working methodology that involves the collaboration of all the parties involved in a project from the very beginning. Its objectives include 3D visualization of the project in order to facilitate its understanding, to detect potential problems and, ultimately, to ensure better decision-making.
Building Information Modeling, usually known as BIM, is a working methodology that involves the collaboration of all the parties involved in a project from the very beginning
5. Based on your own experience, how does this methodology impact a construction project?
Applying BIM to a worksite cross-impacts the entire project. With this methodology, we ensure that all the parties involved are viewing the same information. If at these early stages, such as design, more information is already available, the final project will be more streamlined for execution. The same happens on site. Access to all information in due time and form makes us more efficient when handling worksite needs and helps us prevent potential incidents.
6. And, in your opinion, what are the advantages and disadvantages of BIM over other models?
This methodology has been developed to improve individual work. We cannot afford not to have BIM. However, it should be correctly implemented in order to avoid some persons mistakenly interpreting the model, in the belief that worksite problems will be resolved. Responsibilities should remain where they belong: with professionals. BIM methodology may improve, not replace, our work.
7. Do you think, therefore, that it is one of OHL's differentiating factors?
The company's commitment to digital transformation, in general, and to BIM methodology, in particular, has been reflected in each step. We have been ambitious and, as a result, are a national reference today. Thus, 2019 is becoming a turning point for OHL in Chile, where we have already been invited as experts to events such as the one arranged by the Ministry of Public Works for BIM awareness, the specialized 2019 EXPOBIM fair and one of the technological events arranged by Sonda, Autodesk Software's supplier in Latin America.
8. As you pointed out at the beginning of the interview, persons are essential to ensure a successful process. Consequently, how has the staff been involved?
Nobody can be left behind in the company's digital transformation, as the system's success depends on all of us being at the same level. In order to ensure a joint effort, several campaigns are being launched, adapted to different worksite roles. At present, six training courses are underway, arranged by and for our team, which range, for example, from explaining what a QR code is to software skills.
9. Both in terms of individuals and the organization as a whole, what do you think are the main challenges?
For us, as professionals, the challenge is to leave our comfort zone and be open to change. The difficulty does not lie in learning how to use new digital tools. The challenge in organizations involves "living under digital transformation", internalizing the fact that there is no goal as such, but a "process". Corporate policy should stress the need to continuously reappraise the way we do things, in order to do them even better.
10. Data protection, information security… What is your opinion on how you are being affected by greater access to information?
Digital transformation draws from the principles we already have in place as an enterprise although, certainly, it involves greater team responsibility by increasing access to information. We need to supervise project integrity during the whole cycle, from sharing digital files to, for example, applying a paperless policy.
11. Now in general terms, do you think that companies need to invest in digitalization?
They do need to make a smart investment. However, highly complex consultancy or software will not contribute any value to an organization without clearly defined objectives from the start.
12. Finally, do you consider that enterprises are aware of the importance of digitalization and how it affects their business?
From my point of view, you either acknowledge and incorporate digitalization, or you will face a headlong collision. Certainly, there is always someone who may ask "why should I change my operating method if it has worked until now?". The answer is straightforward: we are doing well, but now we can do it even better.
Meet the safety director of the I-405 Improvement Project, one...
Leer más