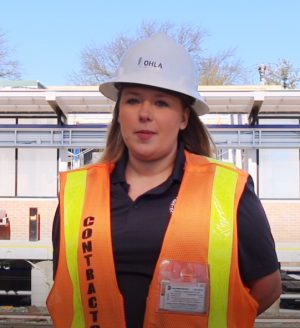 "OHLA has successfully completed very important projects that help meet the needs of millions of commuters daily"
What project are you currently assigned to?
I'm working on the Elmont Long Island Rail Road project, which is the first newly built station for the Long Island Rail Road (New York) in the last 50 years. The new station will enhance travel opportunities between New York City and Long Island and serve the renowned Belmont Park Racetrack and the New York Islanders hockey team's new arena.
What are your exact responsibilities on this project?
I'm currently overseeing the elevator subcontractor and other subcontractors that are doing the architectural finishes on the towers and the pedestrian bridge which will span over four railroad tracks.
What milestones have been achieved?
It is rewarding to see this design-build project from the design phase to an active station. Our team has completed the first phase on schedule and we will be completing phase II by the end of this year.
What projects were you assigned to prior to coming on to the Elmont Station project?
As an intern I worked on the 63rd Street Station closeout and 72nd Street Station closeout, which was a new station on the extension on the Second Avenue subway line. I also worked on ESI package 4 as a Transit Service Coordinator, where I was requesting work trains for the various stations that we were working on, which included 23rd Street, 28th Street, 57th Street and Penn station. When I graduated from college, I was offered a full-time position as a field engineer.
Why did you decide to work in construction management?
I went for construction management because I was very interested in sustainability practices and LEED certifications, that really got me interested in construction. While in school I got this amazing opportunity to intern here and I really fell in love with working with heavy civil projects.
What do you find most fulfilling about working for OHLA?
The most fulfilling thing about working for OHLA is to work on such important projects that make New York City a better place. The company has had so much success with completing new stations and station rehab projects that meet the needs of millions of commuters daily. Also, it has been great to be mentored by my peers, which include Paul Critelli, and my project manager, Jim Farina. Every day is a new learning experience because of the different construction activities that have been taking place.